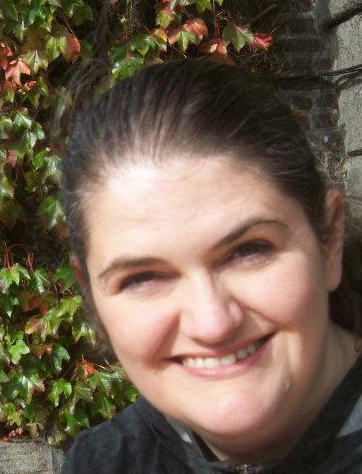 by Barbara Franzoni
Barbara is a friend of the group and the creator of this website. She also created our documentary film, #AbleHour and our social media outreach.
---
In 2016, I was asked by Colette Coughlan to make a documentary about the group. Attending my first monthly meeting however, I was surprised to discover how few people were in the room. This was particularly surprising given the great atmosphere and warm welcome. Afterwards, I googled the support group and found no reference to it at all online. The group had no website, no social media presence nor even any online mention.
The group clearly needed help to become visible and to reach more people. Despite still being in college and also working on the documentary, I set up a website for the group, which I still host and maintain. I also set up their Facebook, Twitter, YouTube and Google+ platforms. That summer the group voted to change its name to Dublin 15 Disability Peer Support Group and I also created their new logo and added to the documentary in order to cover this name change.
The Problem I wished to Solve:
While filming a section of the documentary with group member, Gerry, who has Muscular Dystrophy, Gerry told me how he travelled to the group's monthly meetings in the library in his motorised wheelchair – I estimated this distance would be about a 15-minute walk for me. Gerry said that the bus is no use to him as by the time it gets to his stop the single wheelchair bay has almost always been occupied, either by another wheelchair user or by someone with a pram. Gerry said that while he attends the meetings as often as he can, those transport issues meant he couldn't get there if it was raining, and his attendance was therefore dependent on the weather.
As I attended more meetings, I realised that both transport and accessibility were huge obstacles for all members with a severe knock-on effect on their social lives. In fact, some of the members told me that they might only have their PA to talk with all week long (and sometimes a PA might find it difficult to converse in their language). Even if there were no obstacles to attending the leader forum, it was disheartening to think that someone's only social outlet might be once-a-month. It was this isolation I wanted to tackle by creating a space where everyone could network and socialise and be assured of at least one decent conversation a week.
The #AbleHour idea:
I had taken part in a number of online Twitter-chats through which I had made good friends. I thought an online twitter chat for people with disabilities could be a good idea. The twitter-chat name had to be upbeat, describe what it was about and not take up too many characters. Finally, I came up with the name #AbleHour and brought the idea to a meeting.
At the next meeting the name was approved and Thursday at 8pm was voted the most suitable time. I explained how to take part and while some were unsure about using Twitter, others declared they would try #AbleHour. On the group's new website, I set up a page dedicated to #AbleHour. The web page gives guidance instructions on how to take part in the twitter chat. I also promoted the chat hour as best I could.
Able Hour page on the website for Dublin 15 Disability Peer Support Group
Colette Coughlan of Dublin 15 Disability Peer Support Group didn't use her Twitter account too often but she bravely joined in #AbleHour that first Thursday night, as did a few other group members and it was an enjoyable little online chat amongst 3-4 participants. The next week there were a few more and it continued to grow steadily. I would now consider Colette to be a social media expert. Colette actively moderates #AbleHour from her iPad and enjoys taking part in many other twitter chats also.
Community Impact:
Almost immediately, Dublin 15 Disability Peer Support Group moved from being a hidden-away support group to one that was being seen and heard across the internet. They weren't just announcing their presence but were also networking and making connections both locally and globally. Businesses and individuals began to approach the group offering their skills and expertise, from self-care practitioners to app developers to politicians and the president of the local Institute of Technology.
#AbleHour didn't give people with disability a voice – it gave them a platform from which their voices could be heard. Just by chatting online, people who had perhaps been marginalised or disenfranchised were showing the world that they are people like anyone else, people with lives and feelings and talents and ideas. Many talked about changes that need to happen with those who can make change happen.  I saw many new ideas and initiatives begin to form.
Great things always happen when passionate people talk to each other
I believe that every world-changing idea starts with a conversation. It may not change the whole world but knowing it impacted on one person's world is just as gratifying.
However, it was in meeting its original objective that #AbleHour really shone as friendships were formed; #AbleHour became that weekly online social outlet for people suffering the very serious isolation that often comes with all disability. It didn't just impact the local community and the disability community – it formed its own community.
Growth and Inclusion:
Now two years later, we average around 25 active chatters per weekly session – sometimes more, sometimes less. In those first few weeks, I spent a lot of time guiding people (often over the phone) on how to use the chat but since then it has grown organically. It makes me very proud to see conversations take off and friendships blossom during each #AbleHour. Sometimes ideas are formed and problems are solved, advice and support are always shared and laughs are never more than a few moments away.
I went to a hackathon last November where I spoke with an inclusion activist from Scotland who recognised the name #AbleHour although he had never actively taken part – he does now! In recent times, Colette Coughlan has taken the helm in promoting and managing the hour. Colette has been very active in inviting more people to join in. I am usually there in the background tweeting away also.
Award Nominations:
This year #AbleHour has been nominated for two awards. The first was in the Giving Back section of the Micro Business Awards held in Limerick. More recently, I was nominated in the Social Inclusion category of The Fingal Mayor's Community Volunteer Awards. This nomination recognised the growing #AbleHour community that tackles isolation by bringing people online. Colette and I attended The Fingal Mayor's Awards last night and were completely uplifted by the wonderful work and inspiring stories highlighted by our current Mayor of Fingal, Mary McCamley.
Mayor Mary McCamley is an incredibly active Mayor, attending many events in the community, including the launch of our documentary. I would particularly like to thank her for creating these awards to encourage and celebrate the many great projects, initiatives and people in Fingal and to show what a truly wonderful wider community we live in. I now feel very proud both to have been nominated and to be living in Fingal.
---
This blog post is adapted from an article originally published to LinkedIn: Article on LinkedIn
If you would like to join in #AbleHour please know that you are welcome to do so. #AbleHour is on twitter every Thursday at 8pm. More details can be found on our dedicated #AbleHour webpage: #AbleHour webpage