Isolation Effects on the Brain
Isolation Effects on the Brain  by science.howstuffworks
Isolation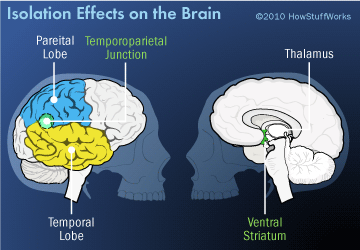 In 2000, political scientist Robert D. Putnam released the book "Bowling Alone," in which he surveyed the declining participation in organizational groups in the United States. Rather than joining bowling leagues, the title suggests that we have refuted John Donne and become individual islands. These days, we may count a high number of Facebook friends or Twitter followers, but when it comes down to it, we have no one with whom we can go bowling.
If you feel like this sounds familiar please visit our facebook page or twitter page as we don't just count the number of people on the friends list but we listen and talk to you too.
Effects
Some people crave their alone time, but more often than we may like to admit, we get lonely. According to researcher John Cacioppo at the University of Chicago, 20 percent of all people are unhappy because of social isolation at any given moment [source: Seligman]. For decades now, researchers have tracked the effects of loneliness and isolation on our physical health. One study with mice subjects found that isolation could increase cancerous tumor growth [source: University of Chicago Medical Center]. Another study found that isolation is a risk factor for disease on par with smoking and obesity [source: Goleman]. Loneliness often leads to stress, which is a risk factor for many conditions in its own right. Researchers have had subjects estimate room temperatures after recalling a time that they were snubbed or socially excluded, and the subjects reported colder temperatures than participants that were asked to remember times with friends, thus suggesting that we can actually feel social chills [source: Association for Psychological Science].
For help on any issues raised above please feel free to contact us at any time day or night.